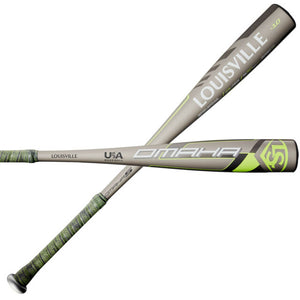 -10 Length To Weight Ratio

Approved For Play In AABC, Babe Ruth, Cal Ripken, Dixie Youth, Little League, & Pony

Colorway: Gray | Lime Green | Black

Balanced Swing Weight

2 5/8 Inch Barrel Diameter

Consistent, Durable Construction For Long Lasting Performance

Custom Baseball Bat Grip Provides Premium Comfort

Full Twelve (12) Month Manufacturer's Warranty

Hot Out Of The Wrapper Performance

6-Star Premium Performance End Cap Improves Balance

USA Baseball (USABat) Certified Stamp

One-Piece, Alloy Baseball Bat

ST7 Alloy For More Power On Contact
Description
2020 Louisville Slugger Omaha -10 USA Baseball Bat: WTLUBO5B1020
This Louisville Slugger is a great choice for any players who are just beginning to get serious about the game or for parents looking for a great value. The Omaha -10 USA baseball bat gives your player the confidence they need each time they pull the bat out of their bag, and you can feel good about providing a bat from one of the top brands in baseball.

Bat Benefits
Constructed with ST7 Alloy for more power, the Omaha is a one-piece bat made to feel stiffer on contact for more energy transfer to the ball. When moving up to the larger, heavier bat, it's important to choose one that lets young players keep their form. While using a big barrel design makes contact more likely, the balanced, lightweight feel of this bat helps youth players continue to swing with proper technique. To help provide this balanced feel, the Omaha uses the Hub End Cap, taking some of the weight out of the end of the bat.

Bat Warranty
While Louisville Slugger is well-known for the durability of its bats, and alloy bats in general are very durable and likely to hold up for multiple seasons, it still offers a one-year warranty to give you extra confidence in your purchase. Order your 2020 Omaha -10 USA baseball bat today and get fast, free shipping.